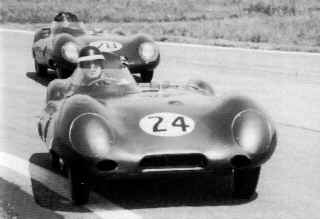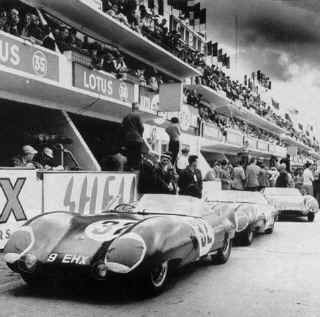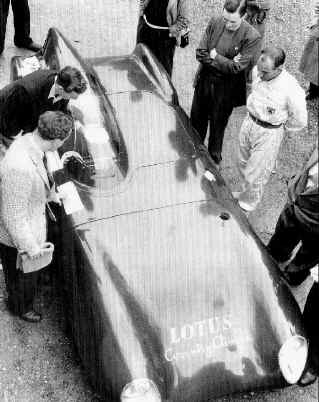 Although generally powered by only an 1,100cc Climax engine, in capable hands the Eleven could run rings around most other racing cars. Such was the combined effect of good horsepower, low weight, unmatched aerodynamics, powerful brakes and exemplary roadholding, that the Eleven had no rival in the 1,100cc class, and was nearly as dominant in the 1,500cc class. It was competitive in the up-to-2-liter class, and on the right course could best any sports car, regardless of engine size.
After an abortive competition debut at Sebring in March, Elevens raced in England. Colin Chapman and others drove the cars to a succession of victories and track records. An epic race duel at Goodwood between Elevens driven by Chapman and Mike Hawthorn was talked about for years.
Around the world, the cars began to fill the grids of the 1,100cc sports car class (or class G), the predecessor of Formula Junior and an entry-level for international competition.
At the 24 hours of LeMans, a team of three cars ran well with the Reg Bicknell / Peter Jopp entry finishing seventh overall and first in class.
That autumn, a specially streamlined Eleven driven by Stirling Moss and "Mac" Fraser ran at Monza, setting a series of closed track world speed records. The 1,100cc car covered 100km at 135mph with a fastest lap of 143 mph.
During the 1956 season, Elevens scored at least 148 race wins.
In 1957, with over a hundred Elevens in action worldwide, the domination continued. The highlights began with a class-win at Sebring by Chapman and Joe Sheppard.
In May, AutoSport editor Gregor Grant ran an Eleven at the Mille Miglia.
Most celebrated were the victories at LeMans: Jay Chamberlain and Mac Fraser first in the 1,100cc class, with other Elevens in 2nd and 4th, and a super lightweight 750cc Eleven driven by Cliff Allison and Keith Hall winning the Index of Performance.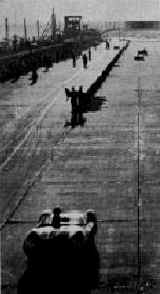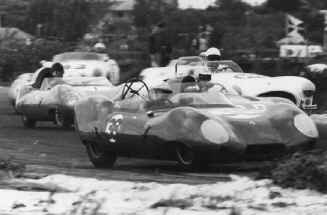 The highlight of 1958 had to be the sweep the Elevens made in their class at Sebring. There the Weiss/ Tallaksen car finished an incredible fourth overall -- and still from only 1,100cc. Gradually however the rapid evolution of racing caught up with the Eleven, and while it was still competitive, Lotus prepared a successor. In 1959 the Lotus 17 appeared, lower and lighter, but even it failed to match the handling and overall speed of the Eleven. The true replacement finally came in 1962 with the brilliant Lotus 23 -- part of the rear-engine revolution that ended the age the Eleven had dominated.
Around the world hundreds of Lotus Elevens found more life in amateur club racing, and as school cars. Many drivers in the 1960's enjoyed their first taste of racing speeds behind the wheel of one of these old thoroughbreds -- the car that first put LOTUS in the headlines.