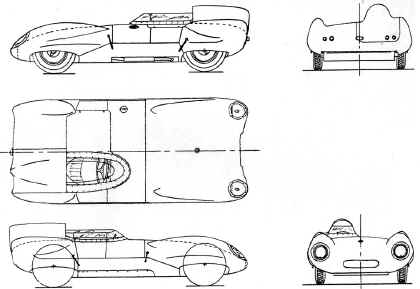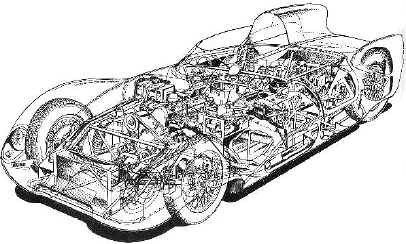 Lotus founder Colin Chapman formed a team of hard-working volunteers to help him create a break- through model for 1956. While production Lotus Marks 8, 9 and 10 were based on the Lotus Mark 6, the Eleven was drawn from scratch. Its closest ancestor was the works Mk 9 LeMans racer, registered XPE 6, a test-bed for what was to come. The Eleven used a steel tubular space-frame with stressed aluminum panels. The elegant chassis weighed under 70 pounds. It was powered by the new Coventry-Climax aluminum four-cylinder engine, an overhead cam design with an impressive power-to-
weight-ratio. Girling disc brakes were used, and parts adapted from all sorts of period English cars made up the rest of the machine. Covering the
vehicle was a stunning aerodynamic body designed by Frank Costin: hand-made of aluminum and hinged at both ends for complete access. The Eleven was as advanced as anything on wheels.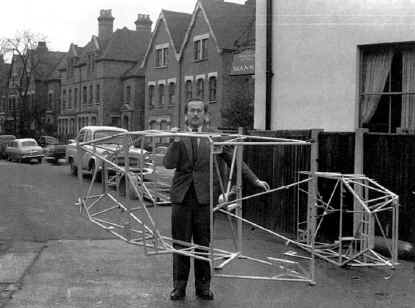 At left, Chapman and some frames outside the 'works' on Tottenham Lane, in London's north end. Lotus were considered 'scientifically designed' racing cars, with each component engineered for maximum efficiency from minimum weight . The Chapman philosophy strived for each part to serve two or more functions, with no more mass than absolutely necessary to do the job. Contemporary race drivers saw the Lotus as THE car for winning races, even at the risk of not finishing at all.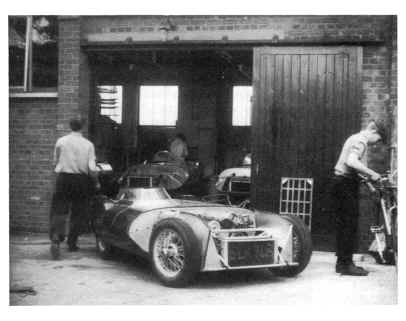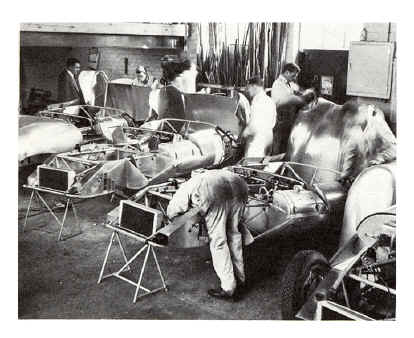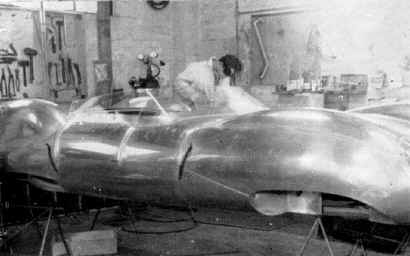 From January 1956 when the first Elevens were hurriedly assembled for the press introduction in AutoSport or to be shipped to the USA for their race debut, cars were built as rapidly as the tiny Lotus shop could manage. The frames were made by Progress Chassis Co., with the bodies and panels from Williams & Pritchard, both practically next-door. Cars were either assembled in-house or sold as kits.
Elevens could be ordered in the full-spec LeMans version which used a deDion rear suspension arrangement, or the less costly Club version which substituted an Austin live rear axle and drum brakes all around. Lastly, a Sports version was available which was essentially a Club with a Ford 10 engine. Initially all Elevens used swing-axle front suspension modified from parts from the English Ford model 93E.
In the Spring of 1957, after about 150 cars had been produced, a new version of the Eleven was introduced as the Series-2. The main difference, and usually only on the LeMans version, was the Lotus 12-type double A-arm front suspension that gave the car more forgiving and consistent handling. The S-2 had improvements to the chassis, a stronger drivetrain and could accept larger engines. By the Summer of 1958 a total of about 270 Elevens had been completed when production focus shifted to newer models, including Formula 1 cars.