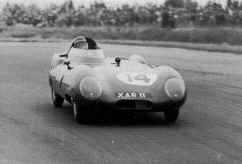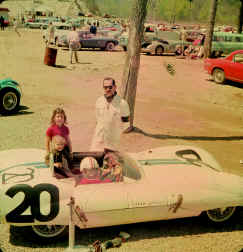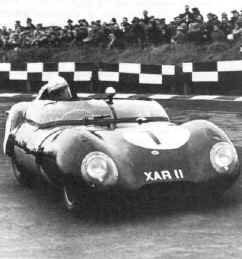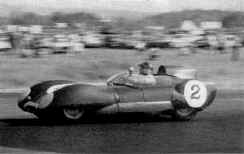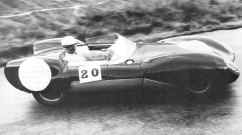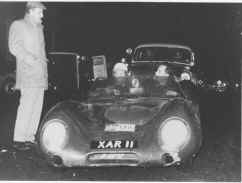 by Brett Johnson

In England registration numbers are a bit different from the license plates in the USA, which change annually or at least periodically. Once assigned, in the UK the number generally stays with the car for its life. The number XAR 11, however, appeared on no less than five of the 270 or so Elevens built, and all of these were "works" cars. It was not originally assigned to a Lotus; indeed, it may never have actually been formally assigned to a Lotus. The letters AR indicated that it originated from Chelmsford in Essex, a fair distance from the Lotus "works" in North London. The transfer to a Lotus is possibly tied to finding the number in a scrapyard attached to a wrecked Austin while scavenging pieces for new Lotus cars. Since the earliest examples of the marque were Austin "specials," this could have explained the appearance on an Eleven. If not, at least it's a good story.
The first XAR 11, chassis 160, the eleventh Eleven first appeared at the Mobilgas Economy Run on June 9 - 10, 1956. Fitted with a detuned 1100 Coventry Climax FWA, it finished a respectable second, averaging 60 mpg over the 650 mile route on public roads. It subsequently was fitted with a 1500 cc FWB and was campaigned that year in sports car races at Rouen, the British Grand Prix F-2 support race, Brands Hatch, Oulton Park and Imola. In its British Racing Green Team Lotus livery this XAR 11 was piloted by none other than Colin Chapman. This car was then shipped to U.S. Lotus importer, Jay Chamberlain, who had the car painted yellow and installed a new FWA engine, Lotus having kept the "special" works version.
The second XAR 11 was also powered by the larger displacement FWB. It was the final wide-chassis Eleven produced and was painted in white & blue, American racing colors, by request of its first owner, Charles Moran. Chassis 275 was one of four works cars built for Sebring 1957. The car was disqualified after running out of fuel and being pushed into the pits by co-driver Jesse "Doc" Wyllie. Moran campaigned that summer in Europe and results included a 9th place finish at the Belgian Grand Prix for sports cars at Spa. His tow vehicle was a Jeep Commander, painted in the same American livery as the Lotus. Returning to race in the eastern U.S. this XAR 11 was again competing at Sebring in 1958 and 1959. It was then sold to H. Warren Rohlfs, who ran it with a friend, Eric Pasquini, in sports car races in the Northeast until 1962, when it was part traded for a Jaguar at a Connecticut dealership.
This Eleven survives today
The third XAR 11 was, perhaps, the most significant Eleven built, certainly of this group. This car, chassis 323, was prepared for Le Mans with a special small bore FWA fitted with a custom made three bearing crankshaft and displaced only 743 cc. This tiny engine was coupled with a lighter-weight body, standard chassis and magnesium wheels. Its configuration allowed this XAR 11 to compete in the coveted "Index of Performance" category, which had been a stronghold for the French, and as such, a special challenge for Chapman. Finishing fourteenth overall, it handily won the Index. It subsequently competed at Rouen two weeks later and with an 1100 FWA engine won at the Brands Hatch race on Boxing Day. It was then sold to "Doc" Wyllie and shipped to America early in 1958. This car was reportedly destroyed in a racing accident in July 1961 by owner Jim Kaser in an SCCA club race, but there are occasional rumors that it survived. Perhaps someone can shed light on this and put the rumors to rest.
A fourth XAR 11 is mentioned as having run at the Rest and be Thankful Scottish Hill Climb the week after Le Mans, June 29, 1957, finishing second. This car, driven by Edward Lewis, had an FWB engine and apparently made just one appearance in this guise. It may be surmised that Chapman, anxious to capitalize on the instant notoriety of the Index winner, simply arranged for the number to be used. The chassis number of this and the fifth XAR 11 have been lost in obscurity.
The fifth and final XAR 11 was entered in the 1958 British RAC Rally. It was definitely ill-suited for this use, though not surprisingly, it did quite well on the "special stages" held on race tracks. The segments where snow, deep ruts and sharp corners were present proved too challenging and the Eleven was not classified as a finisher. This rally participation was actually a ploy to satisfy Le Mans organizers to allow participation in the 1958 24 hour race. In retrospect, with the disappointment Le Mans would bring, they may have been better served sitting out both events.
After this, the famous number was apparently retired by Lotus or perhaps returned to the car it originally came from. In the early 1980s it was found to be unused, was acquired, and is displayed today on an Eleven Sports model in England.