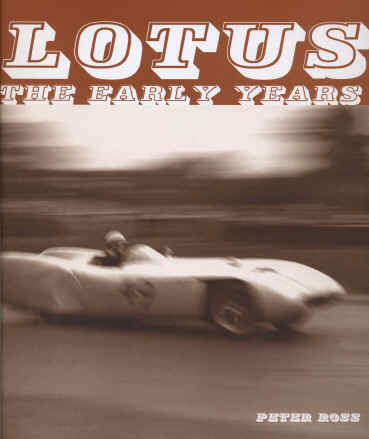 Published in 2004 by Coterie Press, England ISBN: 1 902351 12 6
Most histories of Lotus up to the period of the Mark 8 are based on Colin Chapman's own version, published in Motor Racing magazine in 1954, and Ian Smith's subsequent 'official histories.' This new work by Peter Ross – who helped design the Lotus Eleven – is based on other inside viewpoints of how Lotus found its legs and positioned itself to make an impact in the racing world. Ross, Michael & Nigel Allen, and other surviving members of the 'gang of volunteers' tell the sequence of events in their own words, resulting in the most interesting and insightful view yet into those years.
There is only a foreshadowing here of the Eleven, but the dynamic team that created it is at center stage. Chapman was the chief innovator, and we get close-up views—perhaps the first ever published—of his stunning Formula II design of 1952, the car that would have been the Lotus Mk 7 had it been finished. Also with the original design of the Mk 8 we see inner details of what may have been, when all is said and done, the most extraordinary racing 'special' ever made. Chapman's inspiration, which attracted such talented people to help him, is undeniable.
But it was the others around Chapman who did most of the work. In these pages we enter a classic can-do story of people teaming up with little money, in hours stolen from their jobs and personal lives, for a sleep-deprived struggle to beat the rest of the world with a better idea. Their relentless pace carries us along as they design, build and test for race day, and some chapters in this book are impossible to put down.
Ross, an engineer, Nigel Allen, a dentist, and others here all write in plain English, and the very logical narrative is refreshingly clear and easy to follow. There are many fine photos here too, some from private collections, and most will be new to the reader.
Highly recommended.
--Jay Sloane